Extensive reforms in the Board of Revenue, Chief Minister expressed satisfaction
Traditional Patwar culture is changed, Geo graphic information system and IT are made mandatory. For the first time in history female patwaris are appointed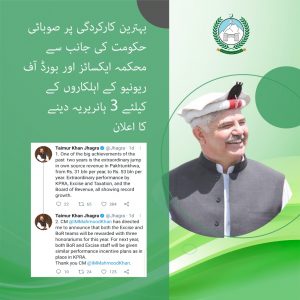 As per directions of Chief Minister Khyber Pakhtunkhwa, there are number of entensive reforms ongoing in Board of Revenue, Revenue and Estate Department Khyber Pakhtunkhwa. During the last one year, rapid progress was ensured in the overall reform process. In order to make the process of Fard and Mutation easy,  transparent and Convenience Service Delivery Centers are being established. Until now 24 Service Delivery Centers are established in the province of Khyber Pakhtunkhwa, wheres as this year in june the number of operational Service Delivery Centers will increase to 36. 
All the facilities and services in terms of Mutation of Land, Issuance of Fard and Registration are being provided in these Service Delivery Centers,  and the involvement of patwaris in this whole process is being minimized. To change the traditional Patwar culture, Patwar course is changed by including geo graphic information system and information technology as a mandatory part of course, more over first time in history, female patwaris are being appointed in the province. The initial recruitment of patwaris is through ETEA based screeing test.
Chief Minister Honorable Mr. Mahmood Khan, while chairing a meeting, reviewed the overall reforms taken by Board of Revenue, and expressed his satisfaction. Minister Board of Revenue, Mr. Qalandar Khan Lodhi, Senior Member Board of Revenue, Syed Zafar Ali Shah, Administrative Secretaries of Irrigation department, Finance Department and Law Department and others related officials attented the meeting. A detailed breifing regarding the ongoing progress/reforms and many other affairs were presented in the meeting, wherein it was stated that a significant progress has been made in the process of Computerization of Land Record in the province, and till now 1100 Mauzas are completed, whereas the process of Computerization of 1100 Mauzas is in final stage.  It was further briefed that the Revenue Department of Board of Revenue has achieved a notable record success by collecting 41% extra from its annual revenue target during the last 8 months. The chief minister while expressing his satisfaction over this, directed to form a real timeline over the completion of ongoing reforms. The Chief Minister agreed with the proposed amendments to the lease policy and directed to submit a final proposal in consultation with all the stake holders within the next 10 days. The Chief Minister also agreed with the proposed strategy to ensure proper implementation of the lease policy. It was also decided that the Irrigation Department will receive the Abyana till June this year while from the next financial year the Abyana will be collected through the Revenue Department.
Due to such extensive reforms and a record achievement of collecting 41% extra revenue from annual revenue target in 8 months by Board of Revenue Department, the Chief Minister Mahmood Khan announced three honorariums for Board of Revenue.