Project Title (As per ADP):Settlement and Land Record / Digitization of Land Records (For 7 Districts) / Creation of Record of Property Rights
AIP Code:AIP-201920- G067
Total Budget:1,188.71 (million PKR)
Amount Allocated:400 (million PKR)
Project Duration:Three (03) years
Project Brief:
The Project envisions establishment of accurate, transparent and secure land records based on Geographic Information System (GIS) for the Merged Areas (MAs) of Khyber Pakhtunkhwa. This project is planned in two phases. In first phase seven sub-divisions will be covered while in the second phase, remaining 18 will be completed. First phase is planned for three years while the second one is planned for five years. Seven sub-divisions are:
| S.No. | District Name | Sub-Division | Area (Sq Km) |
| --- | --- | --- | --- |
| 1 | Bajaur | Khar Bajaur | 717.73 |
| 2 | Bannu | Wazir | 690.27 |
| 3 | Khyber | Landi Kotal | 471.21 |
| 4 | Kohat | Darra Adam Khel | 500.03 |
| 5 | Kurrum | Lower Kurram | 1036.46 |
| | | Upper Kurram | 812.93 |
| 6 | Peshawar | Hassan Khel | 216.85 |
| | | Estimated Total | 4,445.48 |
Details of components and their respective budgets
Following is the summary of budget and funding source.
Description

Funding Source

Total




(Million)

HR – Salary

Government

758.68

Satellite Imagery

Government

100.00

Survey of Sensitive areas

Government

30.00

SDC Land Cost

Government

35.00

Logistics

Government

0.10

Operational Cost

Government

264.93

Sub-Total (in millions)

1,188.71
Project Methodology
Settlement operation in digital mode is illustrated in below figure.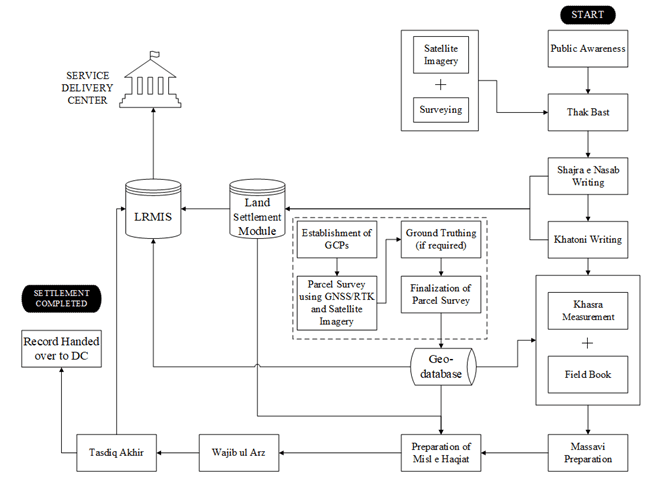 Public Awareness
The department will initiate and coordinate mass awareness campaigns before the settlement process begins in each area separately. A range of tools and techniques will be developed to foster participation through elders and mass awareness campaigns. It will include posters and leaflets, mass media campaigns (radio, television), mobile display/announcements, public meetings, using social media campaigns, and school/college class awareness with the help of local administration. Keeping in view the importance of the project, the awareness campaign will be focused to develop a clear perception, understanding, and familiarity of how the target masses will get benefits out of the settlement operation.
Thak Bast
Thak Bast is the first practical step of settlement operation. It is the process of drawing a sketch of revenue estate or in other words we can say it is the process of determining boundary line of that revenue estate. It is precisely determined with the help of community elders and land owners.
This process will be supported by GIS by printing high resolution satellite imagery on paper. These maps will be presented and discussed in the community to determine boundary line of that revenue estate. If the boundary line is a natural feature like river, stream or hill/mountain or it's a manmade feature like road, canal etc. then physical survey may not be needed. But if the boundary line is within parcels and is not clear in satellite imagery then physical survey using advanced surveying equipment will be carried out.
Chatta Shajra Nasb writing
Shajra Nasb writing (Pedigree/Family Tree) is the process of noting down list of all owners along with their ancestors. Owner list is written in the form of a tree through which relation between owners can be determined. It also provides the list of different tribes and clans residing in that area.
Writing Shajra Nasb is an ongoing process and it is usually not completed in a single sitting. It is completed towards the finalization of Revenue Estate. Shajra Nasb will be written by Patwari on prescribed form and that form will be handed over to Computer Operator. Computer Operator will scan it and will do data entry in settlement module of existing LRMIS software. Scanned record and data entry record will be compared for verification purposes.
Khatoni Writing
Khatoni is the primary document to record information of cultivator of a piece of land. This information is collected for each and every parcel in a given revenue estate.
Patwari will be responsible to write Khatoni in the field and then deliver it to respective Computer Operator. Computer Operator will scan it and will enter the data in exiting LRMIS software. At the completion of Khatoni writing, both the hand written and printed out records will be compared for verification and in case of any inconsistency, will be corrected at the field level.
Chanda Bandi
In GIS based settlement Chanda Bandi will be replaced by using Ground Control Points (GCPs). GCPs are termed as permanent locations on ground which do not change over time. These points are very important for referencing location of land features. GCPs are usually established and managed by the National Surveying Agency i.e. Survey of Pakistan (SOP).
Khasra Measurement
Khasra measurement is the most time taking process of all settlement operation. In this process dimensions of each and every Khasra is measured. Khasra measurement will be done using GIS technology. A hybrid approach of both satellite imagery and surveying equipment will be used. Very High Resolution (VHR) satellite imagery will be used to digitize the entire area. As the settlement operation is going to take place mostly in hilly areas, it will be difficult to conduct survey in rough terrain, deep valleys and inaccessible areas. Such areas will be digitized and measured using VHR satellite imagery. Areas which are congested, will be surveyed using advanced surveying equipment.
Field Book preparation
Using GIS based technology, Field Book preparation will be much easier. Measurement of each dimension of a Khasra will be determined from VHR satellite imagery or advanced survey equipment (as discussed in the previous step). Area of each Khasra will also be determined automatically. Only Khatoni No. will be recorded from the field by Patwari which will provide the basis for cross verification of the data. Field Book and Khatoni will be verified by relevant revenue staff after its completion.
Massavi preparation
All the Khasra measurements of a given revenue estate will be organized in the form of Massavi. This Massavi will have the same scale which is used for manual one i.e. 1inch = 40 Karam or 220 feet. It will also have the 4×4 grid each of 200×200 Karam. This grid will initially be extended from settled districts to avoid any inconsistency on the borders of its neighboring districts.
Writing of Misl e Haqiat
Misl e Haqiat is the primary document for records of rights. It is the combination of multiple documents which is written at the end of settlement operation. As Misl e Haqiat is mainly written from Khatoni and with the help of Shajra e Nasab and Field Book, the land settlement module of existing LRMIS software will help in finalizing it.
Wajib ul Araz
Wajib ul Araz is the document of common lands, its customs, accessibility for different tribes/clans and distribution of resources. This document is written by Patwari of the concern revenue estate. Once Patwari is finished writing it, it will be handed over to Computer Operator to scan and enter in to the system.
Taqseem Parcha Khatoni
Taqseem Parcha Khatoni is the process of distributing owner's land information to respective owners to find out if there is any discrepancy in the data. Parcha Khatoni of each owner will be generated from the system by Computer Operator on its prescribed format and will be distributed by concerned Patwari. In case of any issues reported by the owner will be corrected accordingly.
Tasdeeq Akhir
Tasdeeq Akhir is the final process of verification done by Settlement Officer (SO). All the required documents will be generated from the system which will be verified by respective SO. In case of any discrepancy found in data will be corrected accordingly.
After the completion of Tasdeeq Akhir, data will be handed over to District Administration and will be ready to get live on Service Delivery Center (SDC).
Project updates
The project has been approved by PDWP on February 25, 2020 and its Administrative Approval has been granted in March. In order to kickoff project activities, project positions have been advertised in the newspaper on 21st May, 2020 and currently the scrutiny is in progress.