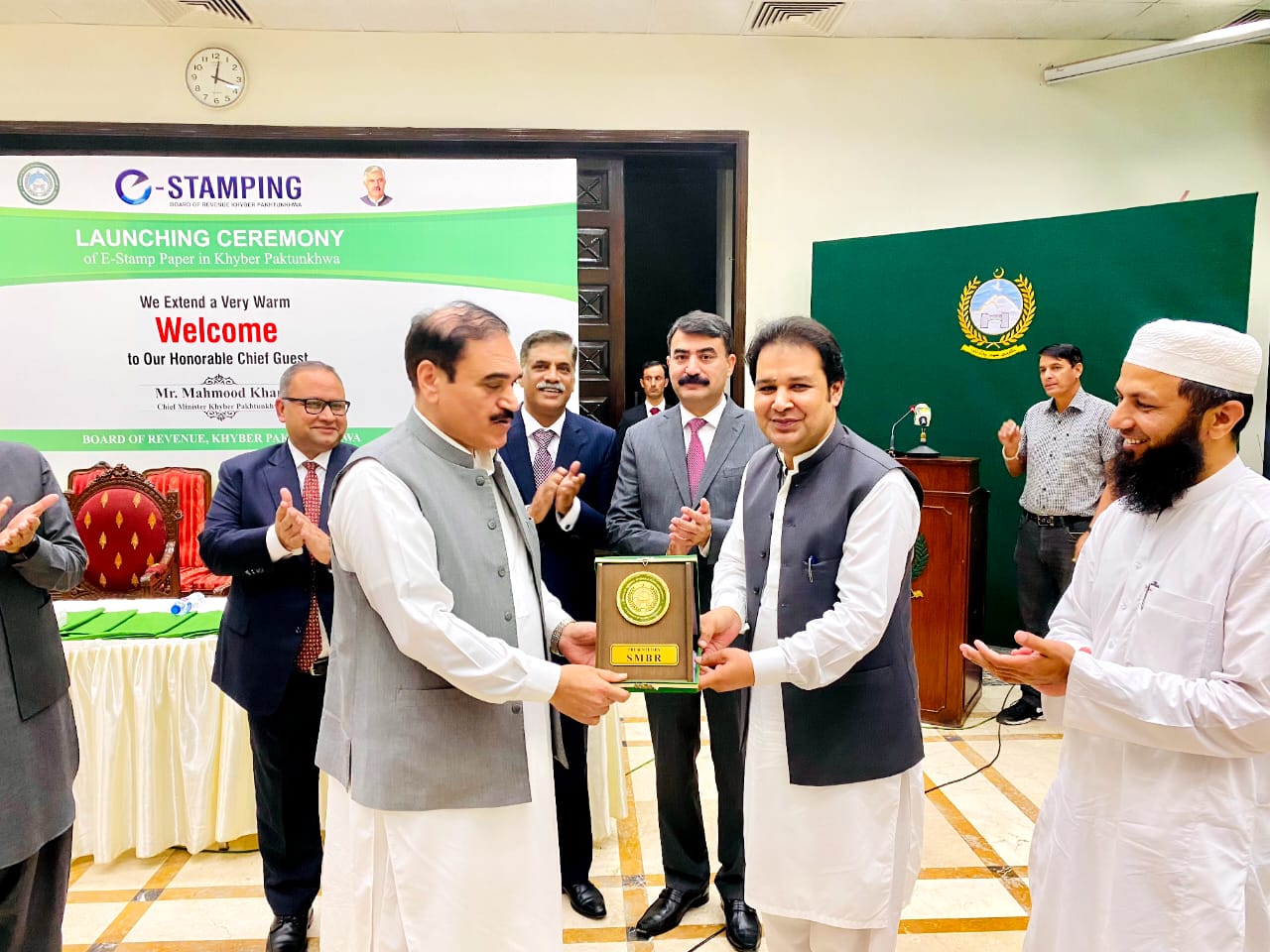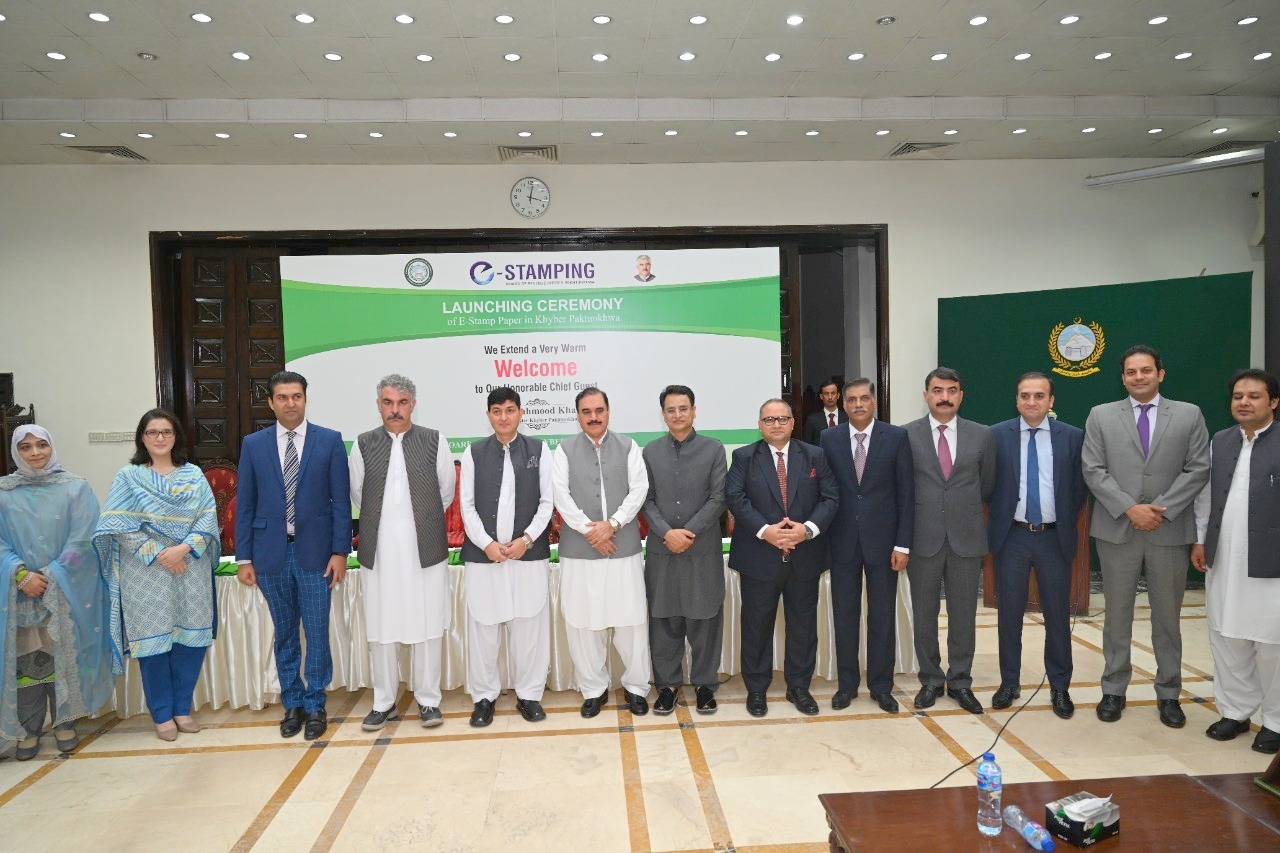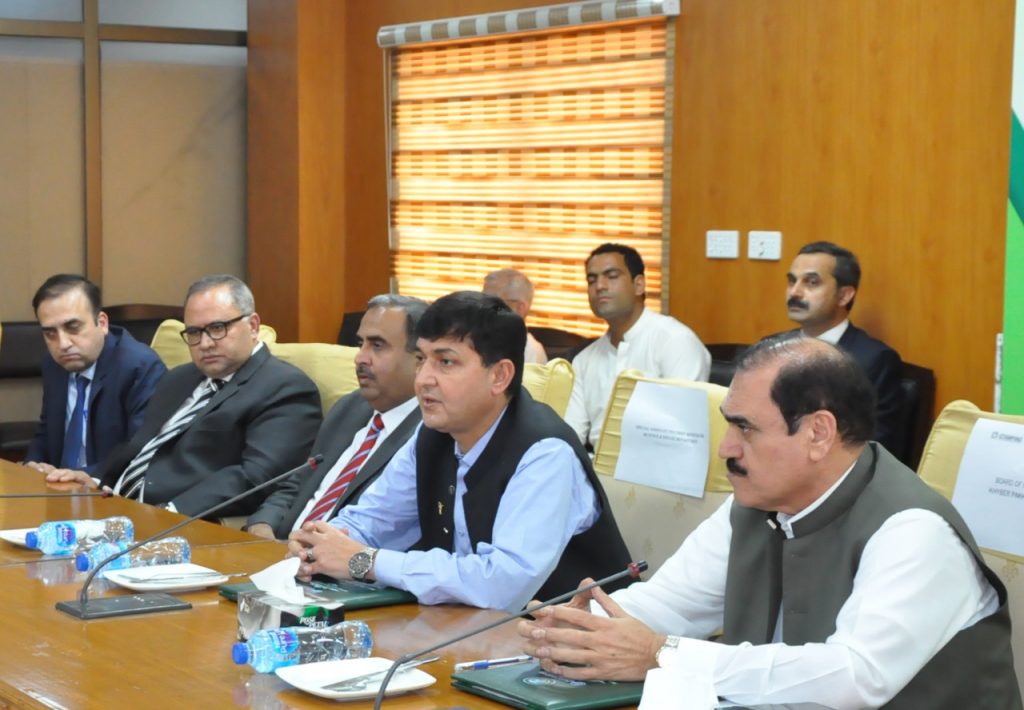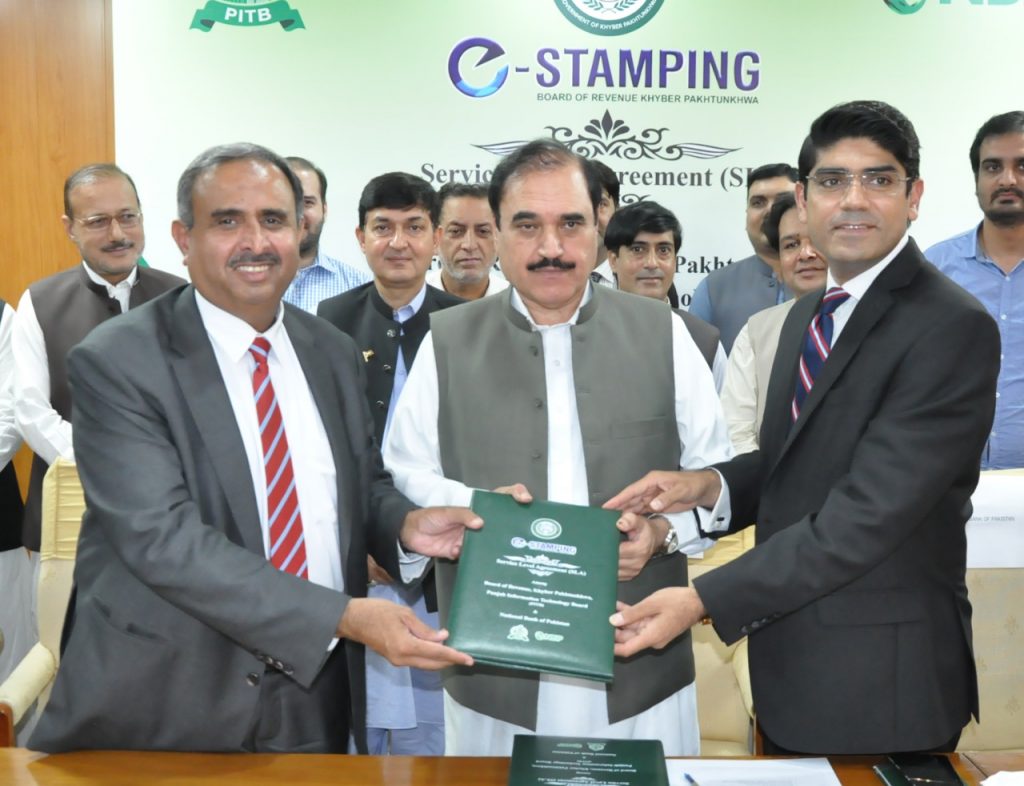 Estamp ceremony
Honorable Chief Minister Khyber Pakhtunkhwa Mr. Mahmood Khan Launched E-Stamp System in Khyber Pakhtunkhwa
Estamp award
DDLR / PD E-Stamping Mr. Shabbir Ahmed receiving award from Honorable SMBR Mr. Zakir Hussain Afridi on the occasion of E-Stamp Launching ceremony
Estamp ceremony
Step towards E-Stamp papers in Khyber Pakhtunkhwa, a remarkable initiative by BOR with the collaboration of NBP and Punjab IT Board.
MOU bor npb pitb
Revenue Minister Honorable Mr. Taj Muhammad Tarand and Honorable SMBR Mr. Zakir Hussain Afridi alongwith other officials signed MOU for implementation of E=Stamp between Board of Revenue, NBP and Punjab IT Board.
MOU bor npb pitb
MOU signed between Board of Revenue, NBP and Punjab IT Board for implementation of E-stamping in Khyber Pakhtunkhwa
Chief Minister Khyber Pakhtunkhwa
The mankind have seen different phases in last 200 years and number of countries have evolved their systems according to their needs and according to the socio economic conditions. Unfortunately in our country we have not worked to change our fate through evolutionary process and our history have seen so many adventures. The people of our country was never been part of the consultations and their involvements and participation was never given weight. Now The Govt In KPK want to interact with the people of the province to eliminate corruption, injustice , inequality and anti social elements. The complaints of the people of the Province was never been heard seriously and never been acted on due to which the people have also stop putting their valuable suggestion and stop complaining about the wrong doing of the people in power. We have established this cell in order to reach you and solve your problems with your help and support.
The mankinds have seen different phased in last 200 years and number of countries around the globe updated their socio economic condition and respective governance system.
But unfortunately in our country, due to personal interest of the masses none of any government delivers well or redresses the public grievances which alternately didn't change the fate of our nation.
The general public never been past of consultation, and their participation was never given weight.
After came into power the current PTI Government made a number of significant changes in the governance system which ultimately put remarkable impact an every aspect of common man life.
Before our government voice of general public didn't hear by anyone but now the PTI Government policies involve the common man in every aspect of ratio economic development of the province.
In the Revenue department, the Digitization of land Record in a flagship project of Khyber Pakhtunkhwa PTI Government, in this way menace of corruption will be completely eradicated as we all known already the manifesto of the PTI government was also to change the centuries old traditional Patwari Culture.
It is also pertinent to mention here that Khyber Pakhtunkhwa is first province of Pakistan who computerized the whole land record after merger of Ex Fata where also extend this project to our Tribal areas.
Besides that we also established compliant cell in revenue and state department,
Whose main purpose is to redress the public grievances regarding the Land issues irrespective of any political environment in the whole process of the Complaint Cell.
SMBR / Secretary to Government
The Revenue & Estate Department, Khyber Pakhtunkhwa has embarked upon a revolutionary initiative of computerization of land records in the province for bringing about a qualitative change in the lives of people. Under this process, the latest technology is being integrated into the land record system. Linking the digitized record of the province with a centralized database will facilitate the single point updating of the record and its integration with different gateways. On the other hand, manual settlement of record is in progress in various districts. Recently, the idea of GIS-based land settlement and preparation of digitized record has been launched in the seven sub-divisions of newly merged areas while the other one for settlement in districts Dir Lower, Dir Upper and Sub-Tehsil Kalam of district Swat is in the process.
"Initiative of Khyber Pakhtunkhwa Government towards E-Governance"
Peshawar: Chief Minister Khyber Pakhtunkhwa Honorable Mr. Mahmood Khan formally launched the E-Stamp Paper in Khyber Pakhtunkhwa. Honorable Chief Minister Khyber Pakhtunkhwa Mr. Mahmood Khan on the occasion of E-Stamp Launching ceremony said that, "by using e-stamp paper services, the issuance of stamp paper in old dates will be stopped and it will be possible to solve the disputes of buying and selling property with e-stamp paper." Mr. Mahmood Khan emphasized that "with the determination of the correct value of the property, it will be possible to eliminate forgery / fraud." "Verification of e-stamp paper will also be done online," he said. He further added that "our government is committed to providing services to the people at their doorsteps by introducing reforms to ensure merit and transparency"E-stamp paper can be obtained through the website www.estamp.kp.gov.pk.
To enhance the economic prosperity of the province by establishing Land Revenue Assessments and Recoveries of Land based revenue to create an efficient provincial resource mobilization system.
E-Stamp system in khyber pakhtunkhwa
INITIATIVE OF KHYBER PAKHTUNKHWA GOVERNMENT TOWARDS E-GOVERNANCE Peshawar: Chief Minister Khyber Pakhtunkhwa Honorable Mr. Mahmood Khan formally launched the E-Stamp…